We had a WONDERFUL time at the HONK! Fest in Somerville Oct 11-13.   See Sandy's photo album and the Honk! Fest website and Honk's Flickr pool, as well as YouTube  and our tweets (at right).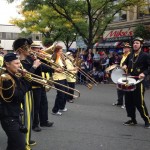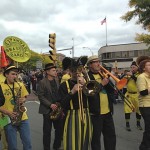 Upcoming gigs:
Amherst, MA: Saturday October 19, 3:30-4:30pm at Co-op Carnival with Food for Thought Books, 106 N Pleasant St , Amherst.
Easthampton, MA: Sunday October 20, afternoon (2-4ish), Park Hill Orchard, 82 Park Hill Rd, Easthampton.  This is a celebration of the Art in the Orchard show, which has been up since September.  Don't miss it!
Holyoke, MA: Saturday October 26 at sunset (5:45pm) for Canal Creature Crawl, Heritage State Park, Dwight Street and first canal. Come earlier for the Monsters Ball  (4pm- ) in the City Hall ballroom.  Stay afterwards for the After Life Party (8pm- ), also in City Hall Ballroom. Our band will lead a parade of creatures, kids and families around Heritage Park after a brief ceremony at the canal at 5:45pm. (Kids drop colored leaves into the canal.)
Northampton, MA: Sunday October 27, 10:45- 11:10am, Gives A Hoot Halloween Fun Run, as racers return to Fitzwilly's parking lot.