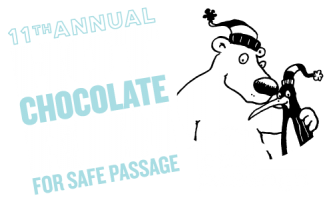 The Hot Chocolate Run is a community celebration of Safe Passage, the Hampshire County organization addressing domestic violence. The Hot Chocolate Run has grown dramatically since its first year in 2004. This year, we expect 5,500 participants in our 5K run and 2.5K walk. Every runner and walker will enjoy a mug of homemade hot chocolate at the finish line! Participants join us year after year for a fun and festive start to the holiday season.
Start Time
Sunday, December 7, 2014
3K Walk: 9:00 am
5K Fun Run: 9:20 am
5K Race: 10:00 am
The start line is at the intersection of Crafts Ave. and Hampton Ave, in Downtown Northampton, behind the Northampton Brewery.